We use a variety of cosmetics every day. We use them primarily for cleansing and caring for our skin. However, proper hygiene is also essential for our health. A clean and well-cared skin enhances our look, which contributes to a good mood every day. That's why we decide to choose high-quality products that will stand out with a well-suited composition and satisfactory performance. The range of eco-cosmetics, with a composition based on natural raw materials, is now highly popular. Read the article below to find out what natural eco-cosmetics are and what you need to know about them!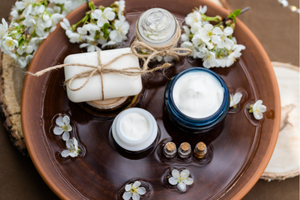 What are cosmetics?
People have been familiar with and using cosmetics for thousands of years. Ointments, oils and balsams were already valued in ancient Egypt, Mesopotamia, China and Greece! There are different types of cosmetics, including:
moisturising, regenerating, protective, matting, detoxifying creams (for oily, mixed, dry, sensitive skin, for facial, body, and mouth care, also for the skin around the on the eyes, neck, etc.),
cleansing and soothing milks, tonics, micellar fluids;
cleansing/moisturising shampoos, gels and bath fluids;
masks and peels (exfoliating, rebuilding, stimulating);
skin, hair, and nail care products;
Hair lacquers, gums and other hair-styling products;
foundations, mascaras, powders, eyeliners, lipstick, eyeshadows;
oral hygiene fluids;
deodorants, antiperspirants, toilet waters.
A separate range of cosmetics are products for the youngest children. These are: gentle baby powders, shampoos, UV filter protection creams, irritation-calming/soothing ointments, and bath emollients. All these types of cosmetics can now be easily found in the 'natural' version. They are characterised by the absence of allergens and other potentially harmful substances (dyes, preservatives) and by having eco-properties such as high biodegradability.
Natural cosmetics: what makes them special?
Is it worth using natural cosmetics? What is different about them from other types of cosmetics available in drugstores? The main difference is the choice of semi-finished products. Natural cosmetics have substances mainly of the following origins:
plant-based (plant extracts, algae and oils, obtained from certified crops), or:
mineral (powdered rocks, stones, clay, etc.).
In the eco-cosmetics section, an absolute minimum of synthetic substances are added to them to ensure a certain shelf-life or consistency of the product. The composition is very simple and no substances that are considered harmful will be found there. Furthermore, testing such cosmetics on animals is regarded as unacceptable.
Organic natural cosmetics – number 1 on the eco-cosmetics list
When we look at natural cosmetics websites, we will certainly find ourselves in the organic product range. What are they? It is a group of the most eco-friendly cosmetics, both for people and the environment. To be considered as organic, cosmetics must bear the following certifications:
ECOCERT (an international certificate for eco-cosmetics, granted since 1991),
USDA Organic (valid in the United States),
BDIH (a German quality certificate issued by the Federal Association of Industrial and Trading Companies for Pharmaceuticals, Health Products, Dietary Supplements and Cosmetics).
The above certificates shall only be granted to products which:
originate exclusively from proven certified organic crops (GMOs are not allowed in organic cosmetics),
are not tested on animals,
do not contain constituents derived from dead animals (for example: animal fats or collagen),
are produced under well-defined conditions, with the use of designated methods such as water extraction, oxidation, hydrolysis, hydrogenation.
Organic cosmetic products shall not contain: artificial colouring agents, synthetic odour enhancers, parabens, petroleum derivatives, silicones, salts of acids; and the acids: salicylic acid, sorbic acid, benzoic acid. These are substances with an irritant, drying effect and some of them are even classified as carcinogenic (e.g. paraben) compounds.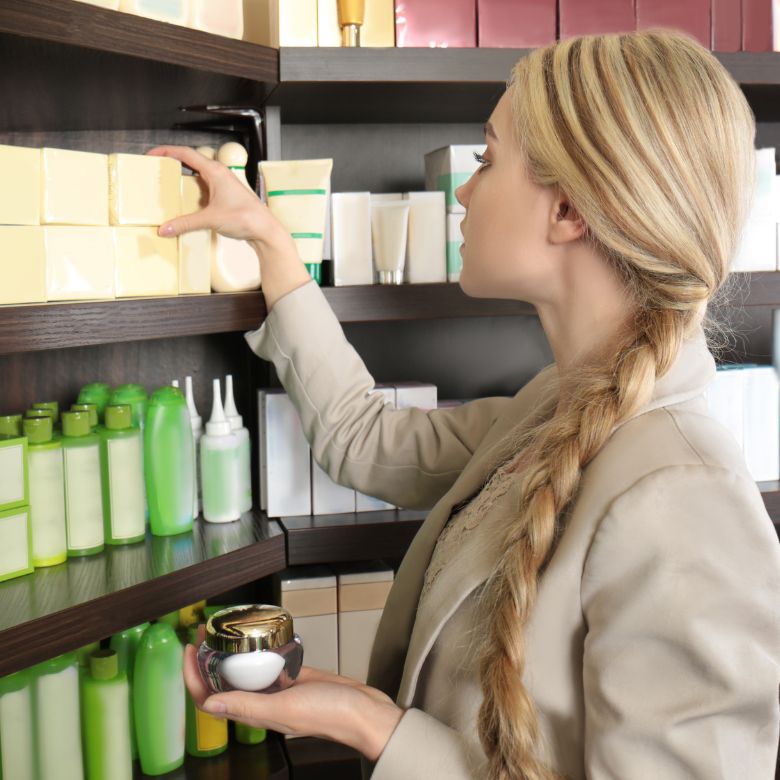 What should be noted when choosing the natural beauty route?
The cosmetics industry is currently experiencing a real boom and we can easily find online and traditional shops offering products of natural origin. When selecting our eco- cosmetics store, it is important to pay attention to some very important points. Many companies and brands are labelled eco, bio, 100% natural, for vegans and vegetarians, but really only some of them have the highest-quality products.
What information should the consumer get in a shop where natural cosmetics are available? A cosmetics website or a drugstore should have certificates for eco-products. The description of each cosmetic product available in the offer must contain comprehensive information on the origin of the plants and the composition of the cosmetic product. The lack of such basic information means that products that appear in store catalogues may not have any connection with real, natural cosmetics.
Why is it worth using eco-cosmetics?
As consumers, we have grown weary of artificial creams and shampoos that continuously irritate our skin. Why do we use organic cosmetics, which are now so popular in the media and elsewhere? Are they just a creation of modern trends – and if not, what tangible benefits do natural and organic cosmetics offer? The list of benefits can be really long if we focus on top-quality certified products:
we avoid contact with hazardous substances, keeping the skin healthy for many years,
they do not destroy our bacterial flora,
they enable the skin to do a better job at absorbing nutrients and beneficial substances contained in plant extracts.
We also contribute to the global fight to keep the planet clean by using eco-packaged natural cosmetics. We do not generate harmful waste because eco-packaged natural cosmetics use containers, sachets and other packaging that are usually recyclable.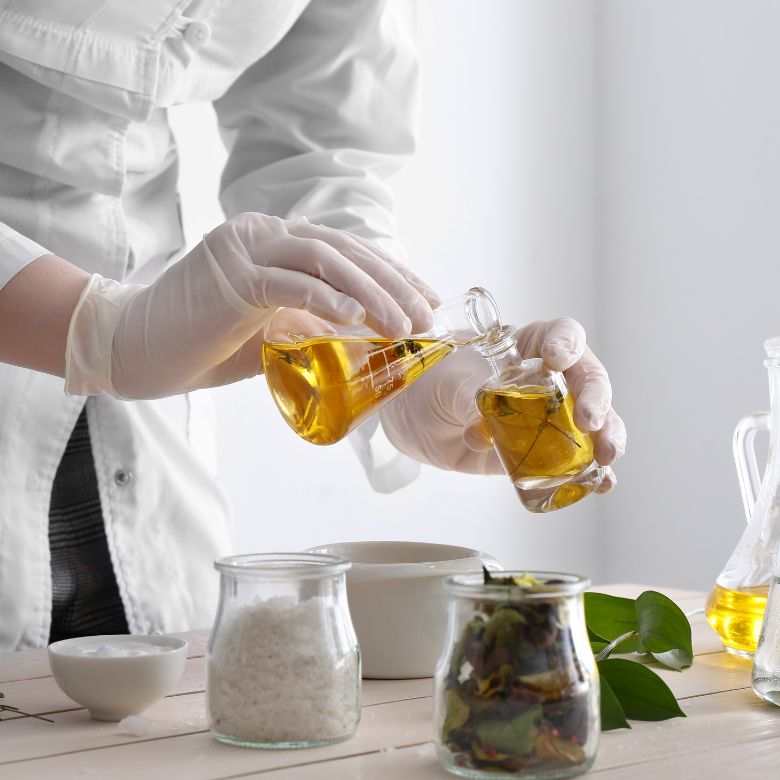 The Eco-Cosmetics Offer from the PCC Group
Eco-cosmetics are a unique product group that requires carefully selected raw materials. The composition of the cosmetics must meet a number of requirements that are confirmed by different types of certificates, but above all they meet the expectations of the customers in terms of performance while preserving their natural character.
The Green Offer from the PCC Group is a response to the needs of producers who are looking for high-quality raw materials of natural origin or organic semi-finished products. Here you will find a whole range of products dedicated to personal hygiene and cosmetics products. The product portal offers a range of products with certificates such as: ECOLABEL, ECOCERT, and RSPO MB.
One of the most popular entries in PCC Group's offer are betaines, which can be found under the trade name Rokamines (also ROKAmina K40HC, ROKAmina K30, ROKAmina K30B). These products have very good foaming properties and reduce the irritating effects of preparations which contain anionic tensides in the formulation. These surfactants are based on natural ingredients, but they are distinguished by the absence of parabens and the possibility of being used in vegan products. The manufacturer also stresses that they are not tested on animals. Thanks to these and other unique features, they are great products for use in organic cosmetics.
This is just one of the positions offered by PCC Group. Please visit the Product Portal for the complete offer! In addition, we encourage you to visit our multimedia beauty showroom, where you can find some formulation proposals that also rely on products that are dedicated to organic preparations.
Sources:
https://www.kontrollierte-naturkosmetik.de/e/guideline_natural_cosmetics.htm