The basic and most important certification for lubricants required in the food industry is the NSF International approval of the American organisation NSF International – (the National Sanitary Foundation).
It is a non-profit organisation founded in 1944. It was created to standardise sanitation and food safety requirements. It engages in the development of the public health standards, testing, certification, inspection, as well as protection of products, services, consumers and the environment.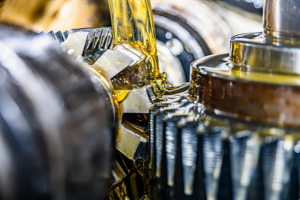 As a result of the certification, products receive the NSF mark, which provides consumers with a guarantee that certified products have been rigorously tested for compliance with all necessary requirements. Among other things, the NSF certification requires regular inspections to verify that products covered continue to comply with NSF's requirements. Labels of certified products are also objectively verified by the certification company.
The NSF mark gives a market advantage over non-certified products. It confirms that a company with NSF approvals for its products is committed to quality, compliance and safety. The NSF mark is recognised and valued by consumers, manufacturers, retailers and regulatory agencies around the world.
Lubricant classification according to the NSF International
The NSF organisation has set standards that lubricants used in the food industry must meet.It has also developed a special inspection procedure that, among other things, verifies a product's compliance with the Food and Drug Administration (FDA) regulations.The NSF certifications for lubricants are accepted worldwide.
Two types of certification are distinguished for lubricants: H – for finished formulations, and HX – for ingredients from which finished formulations are made. Both types of certification include 3 subcategories:
NSF H1 and HX-1
The first category is for tasteless, odourless products that have incidental contact with food.Incidental contact is technically unavoidable due to the type of system in which the oil or its components are used and close to the food being processed.These are chemicals that are used for the proper functioning of pumps, conveyor belts, mixers, canning machines, heating boilers, slicing, bottling and brewing machines.Permissible contamination of food products can be a maximum of 10 ppm of oil.
NSF H2 and HX-2
The second category specifies products approved for use in the food industry, but not in direct food contact (no food contact), such as forklifts. These products must meet strict requirements for toxicity, mutagenicity and heavy metal content (such as mercury or antimony).
NSF H3 and HX-3
The third category, referred to by the NSF as soluble oils, refers to soluble oils that are fully biodegradable. These include edible oils, such as sunflower oil, soy bean oil, corn oil, etc.
The PCC GROUP, as a manufacturer of speciality chemical products, offers a range of products with the NSF HX-1 certificate for incidental food contact. These products include: Rokolub 50-B-100, Rokolub 50-B-150, Rokolub 60-D-150, Rokolub 60-D-220, Rokolub 60-D-460, Rokolub 60-D-1000, Rokolub P-B-50, Rokolub P-B-100, Rokolub P-B-120, Rokolub P-B-150, Rokolub P-B-220, Rokolub 320F, Rokolub 680, Rokolub MOS 32.
They belong to the poly-glycols group and are used as base oils or additives in lubricant formulations. They ensure cleanliness, better lubrication and safe operation of machinery and equipment. They cause less carbon build-up and deposits compared to mineral oils. They can be used as lubricants in equipment operating at low temperatures. They show good compatibility with NBR and EPDM type elastomers. They are used as base oils for industrial gearboxes and compressors. In addition, they are used in the production of processing fluids and in the textile industry.
In addition, polyglycols such as: Rokolub 320F, Rokolub 60-D-150, Rokolub 50-B-150, Rokolub P-B-68, Rokolub P-B-32, Rokolub P-B-46 and Rokolub 50-B-46are characterised by a very good degree of biodegradation in the environment.