In the last 20 years, the concept of secondary raw materials has increased in importance. They are often talked about in the context of ecology and environmental protection. In our article, we will answer the questions of what secondary raw materials are, what groups they are divided into and how they can be used in industry and everyday life.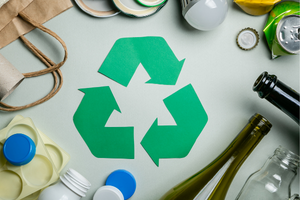 Secondary raw materials: definition
According to the Polish language dictionary, the Polish equivalent of the word "secondary" means "created as a result of transformations" or "obtained for the second time". This perfectly reflects the meaning of the concept of secondary raw materials. Secondary raw materials include materials and waste that can be reused for various purposes just by processing.
Secondary raw materials are produced as a result of recovery. According to the nomenclature of the Polish Act on waste of 14 December 2012, recovery means:
any process, the main result of which is that waste starts to serve useful applications by replacing other materials.
The legislator also introduces the term "material recovery", which means:
a process which includes activities such as recycling and preparing waste for re-use.
Recovery is possible due to the selection of waste, i.e. separating waste types into those that can be processed and those that are not suitable for reprocessing.
What types of secondary raw materials do we distinguish?
All secondary raw materials are divided into two basic groups:
non-metallic materials,
metals (including coloured metals such as aluminium or zinc).
The categories of non-metallic secondary raw materials include:
Metals that are recyclable as part of the recycling process include aluminium, steel, brass, cast iron, iron, copper and lead. Secondary raw materials also include precious metals, such as gold, silver or platinum.
What are the applications of secondary raw materials?
Recovered materials are used to make a variety of semi-finished products and articles that we use on a daily basis. They are used by companies in packaging, construction, clothing, toy, logistics, automotive and many other areas. Plastics are used to make such items as:
shopping bags;
foil, other types of bags;
disposable dishes, cups, plates, cutlery;
insulation, hydraulic and electrical materials;
stationery accessories;
toys.
Processed waste paper is used to produce a great number of useful items, such as copier paper, newsprint, kitchen or toilet paper, cardboard packaging, bags and package fillers. Glass aggregate, on the other hand, is used to make jars, bottles, glass wool and fibres, as well as decorative chippings.
Recycled metals also have a variety of applications. They can be reprocessed into cans as well as structural elements of vehicles, ships or aircraft; they are reused to make tools, electrical wires and even jewellery.
Why should we use secondary raw materials?
On our planet, the available waste storage areas are shrinking more and more each year. If we do not take the right preventive steps as a responsible society, tonnes of toxic waste will flood the generations to come, and the Earth will cease to be habitable. Therefore, any step taken to recover secondary raw materials is of great importance in the context of protecting the environment in which we live.
The use of materials in the recycling process allows reducing the amount of pollution. It is also an excellent way to save renewable and non-renewable raw materials, such as trees or minerals whose extraction and processing require additional energy. Thanks to recycling, we also have a real impact on the quality of air and soil as the demand for new semi-finished products decreases, and the production and distribution of these products are associated with different types of pollution.