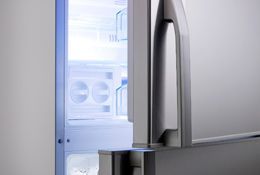 The cooling device market is characterised by dynamic development and continuous innovation. Moreover, the market is wide open to improvement, especially if it increases the efficacy and thermal insulation performance of a system. At the same time, the market is relatively dependent on climatic and economic changes. What is more, regular radicalisation of regulations, in particular related to environmental requirements, significantly increases the demand for state-of-the-art, technically advanced solutions. Therefore, manufacturers of thermal insulations, for example with polyurethane (PUR) systems, find the development potential for the cooling device market very high.
The situation is quite the opposite for the industry of heating devices, such as tank-type water heaters, heat pumps, solar thermal collectors, gas boilers, tankless water heaters, and radiators. This market is extremely competitive and price-sensitive, and therefore it is less open to any innovations. Changes which may lead to increased production costs of the device itself are treated with particular scepticism. Nevertheless, this does not mean that the heating device market is not developing. Increasing possibilities are to be found particularly in the application of polyurethane used in the insulation of tank-type water heaters. Current resolution of the European Commission No. 812/2013 requires manufacturers of boilers to indicate energy ratings on all devices manufactured. The application of polyurethane as an insulating material in this type of devices is, without a doubt, one of the most favourable and simultaneously cost-effective ways of obtaining better efficiency.
 Requirements for thermal insulation
The most important requirements of systems used for thermal insulation of cooling and heating devices include high effectiveness and durability. Additionally, each system should be provided with so-called optimal thermal insulation, adapted to operating conditions of a particular device. Therefore, standards and technical regulations define parameters such as thickness and type of insulation.
According to the regulations in force on technical conditions, the minimum thickness of heat insulation depends on pipeline diameter and the heat transfer coefficient of the insulating material. Effective reduction of heat losses and protection from extreme temperatures allow users of such systems to achieve significant financial benefits. Therefore, it is important to use thermal insulation dedicated to particular systems, differing in temperature tolerance etc., which ensures high operational efficacy.
Thanks to the described requirements, manufacturers of polyurethane systems have great opportunities, as such systems are currently considered some of the best thermal insulation materials available on the market. Rigid polyurethane foam has a low thermal conductivity coefficient, λ, which on average amounts to <0.022 W/(m·K) (@10°C) for systems offered by PCC Group. This parameter describes the rate of heat conduction in a particular material, and the lower it is, the better its insulating properties. This feature of polyurethane thermal insulation renders it a highly attractive solution for the increasingly demanding manufacturers of heating and cooling devices.
Insulating systems offered by PCC Group
PCC Group is a manufacturer of a wide range of polyurethane materials, including two component systems for the production of rigid, self-extinguishing foam. Such foams are mainly used in insulating cooling and heating devices, efficiently reducing energy loss. The products dedicated to the cooling industry include EKOPRODUR 2232W (for insulating tanks and in situ pouring), and EKOPRODUR PM 3032F (for insulating refrigerated counters). Both products are also widely used for insulating cold stores. EKOPRODUR 3050W and EKOPRODUR WH1230Z, on the other hand, are recommended as polyurethane thermal insulation in the manufacture of boilers and water heaters.
We are increasingly developing our offer in close collaboration with our clients. According to their suggestions and the requirements of the market, the PCC Group production engineering team develops and tests products. The team takes into consideration expectations towards parameters such as density, flammability class and even the type of foaming agent. Thanks to such a vast range of possibilities, clients can now receive a unique system which is tailored to their individual needs.